Get from under water!
Officers of the State Inspectorate on Wildlife protection successfully completed a difficult job on incriminating a group of poachers who were fishing eels with the use of an aqualung, a GPS-navigator and an "electrical" fishing rod.

In the first six months the number of detected violations involving the use of "electrical" fishing rods increased: the Sate Inspectorate officials suppressed 17 such cases, whereas during the whole 2007 – there were only 19 cases. Alas, it proves that poachers didn't desist from the use of such dangerous fishing gear. And a considerably higher number of violations detected is the result of closer attention that the State Inspectorate departments devote to this issue.

A conclusion can be made from experiences related to arrests of cheating fishermen that poachers sometimes use the benefits of the scientific progress even wider than certain state agencies. Illegal fishing gear, including electrical catching tools, has been improved constantly. Inspectors already encountered devices which can work under water without putting at risk a person who uses them. New fishing gear, banned in our country, appears. Poachers started using GPS-navigators – devices for orientation in the filed under any weather conditions.

After a briefing, a raid group under the command of the Quick response Directorate Chief, Sergey Maslovski, got authorized arms and set off for Lake Naroch. Information had been received that a whole group of poachers was involved there in illegal eel fishing. Diligent work on the analysis of the situation lay ahead. During several days and nights inspectors conducted covert surveillance over the water area. And finally they managed to track the poachers down.

Illegal fishing was carried out by a scuba diver, and from the bank and a boat this process was carefully monitored by his accomplices equipped with mobile connection. Experienced inspectors who had conducted dozens of successful arrests found themselves facing a very serious problem. It was necessary not to just arrest violators but to establish their guilt in committing an offence and to accomplish this it was necessary to dive to the depth of more than 10 meters.

The management of the State Inspectorate decided to involve in the operation a scuba instructor. On the spot an additional briefing was conducted and tactics of each participant of the operation defined. Then the plan was successfully implemented in practice.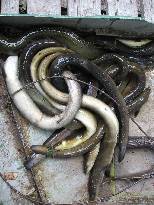 The poaching scuba diver in underwater outfit was brought to the surface. A cage with 11 eels, a total weight of around 8 kilograms, and an "electric" fishing rod were picked up together with him from the bottom of the lake. Two accomplices who controlled the scuba diver position with the help of GPS-navigators were also caught.
According to the estimation of specialists, the damaged caused by the poachers amounted to 275 base amounts. A group of investigators from the Myadel district police station was called to the scene of action and later a criminal investigation against the poachers was opened.
Comments of Mikhail Areshko, the Chief of the State Inspectorate on Wildlife protection under the President:
The Naroch territory is under special surveillance of the State Inspectorate structural departments. In accordance with the task assigned by the Head of the State within the framework of the State program on the improvement of an ecological situation at Naroch lake, appropriate measures were taken aiming at tightening of control over the environment protection in this district.
This operation is a confirmation of this tendency. The difficulty lies in establishing the guilt of an underwater fisherman. Only elaborate preparation, professionalism, savvy, and self-possession allowed us to bring this operation to a successful conclusion. Of course luck was also on our side. There are always moments which are impossible to foresee.
At the same time this fact demonstrates that poachers are very well equipped. Which tools they use? Different "electrical" fishing rods, drag nets – holding fishing gear which is set in the water. A case is known when a poacher in a diving suit was setting nets at a depth of 4 meters without a boat. In winter the so called "torpedoes" are used to set nets under ice. And of course a standard device kit is employed: nets, "tellies", spears, traps and so on.
Altogether the situation with illegal aqualung fishing is no critical at the country's water reservoirs. In bulk, poaching scuba divers make up a small part because this method of fish procurement is pretty sophisticated. It is impossible to get into it without special skills and expensive equipment. Not everybody can descend to the depth of 13 meters and stay there for two hours. This method is used as a rule by groups of poachers. That is why it is not easy to catch them.
If at the beginning of the formative stage of the State Inspectorate our officer could stay on the bank and wait when a poacher landed with fish and catching gear, now it is not like this. Accordingly personnel requirements have increased and outfit should be appropriate. But the main principle abided by our staff is – it is important to have a desire to get involved in environment protection. And if there is a desire, there are, as it is well known, thousands of ways.
Material is prepared in association with journalists of the Narodnaya Gazeta.
Версия для печати